Complete Story

September 2022 OPA Extern Profile: Brandon Christen
Name: Brandon Christen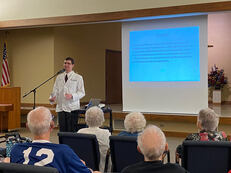 E-mail: brandonmchristen@cedarville.edu
Pharmacy School: Cedarville University School of Pharmacy
Undergraduate degree/institution: Bachelor of Science in Pharmaceutical Sciences/Cedarville University
Rotation Month at OPA: September 2022
How did you get interested in the profession of pharmacy?
My favorite classes in high school were my chemistry and biology classes. I thought that it would be interesting to combine the two in a way that was both interesting and a means of helping people. My previous neighbor and aunt were also pharmacists at one point, which also swayed me towards working with medicine.
Why did you choose OPA as a rotation site?
I chose OPA as a rotation site for a few reasons. First, I believed that taking this rotation would allow me to better develop my network with other pharmacists. Second, I wanted to examine the field of pharmacy from a more global perspective, understanding how the policies that govern the day-to-day activity of pharmacists in retail, hospital, and other settings are researched, debated, and implemented. Third, I wanted to discover potential avenues for advocacy that I could pursue and also be most beneficial to my desired post-graduate position as a retail pharmacist.
What was the most significant or surprising experience at OPA?
The most significant experience that I had during my time at OPA was attending the monthly meeting of the State of Ohio Board of Pharmacy. During the meeting, I was able to watch the Board deliberate on several important issues applicable to pharmacy practice, including whether or not rectal and suppository forms of marijuana could be added to the Ohio's formulary of acceptable drugs and the logistics of making naloxone dispensaries available in public locations (e.g., public parks). Additionally, I was able to listen to three adjudication hearings regarding the licensure of pharmacists where I was surprised to see these individuals representing themselves before the court. Watching these adjudications was an eye-opening experience, watching as the Board attempted to balance the justice required for the wrongful actions that had taken place with the mercy needed in dealing with addiction in some circumstances.
Why I think it's important to maintain my OPA membership after graduation.
OPA is an excellent organization if your end goal is to be involved with any form of legislation in the state of Ohio. No matter what field you plan to enter following graduation, advocating for one's profession and patients is going to be imperative to proactive advancement of the profession. This is encouraged by OPA membership through project collaboration, professional writing and research opportunities, and the ability to attend committee meetings. Additionally, you get access to the monthly Ohio Pharmacist journal, which has articles that keep you up-to-date on relevant issues and offers one CE course with each issue.
What other pharmacy associations/organizations do you belong to?
Rho Chi- active member 2021-2022
SNPhA- P3 class liaison 2021-2022
Phi Lambda Sigma- active member 2022-2023
Hobbies:
Listening to classical music
Analyzing literature, movies, and television shows for themes and structure
Walking in the park
Riding rollercoasters
---