New Practitioner Experience (NPX)
What is NPX?
NPX is an automatic and free, Ohio Pharmacists Association (OPA) member benefit that provides leadership, advocacy, networking and practice development opportunities to pharmacists in their first 7 years of practice. Not a member? Not a problem. Join OPA today by clicking the button below.
Vision
To be the launch pad for all new practitioners to achieve personal and professional growth and success.
Mission
The mission of the OPA New Practitioner Experience (NPX) is to serve as a catalyst for the transition from student to pharmacist by providing new practitioners the opportunity to achieve personal and professional growth and success. This will be accomplished through leadership, advocacy, networking and practice development opportunities.


NPX Advisory Team 2019-2020 - Now Accepting Applications for 2020-2021!
NPX is currently looking for interested individuals to take active leadership roles on the NPX Advisory Team. There are four position openings: Vice-Chair, two Members-at-Large (one and two year terms) and Launchpad Editor-in-Chief.
Vice-Chair is a two-year commitment that transitions to the role of Chair in year two. This individual will work closely with the Chair to guide the overall direction of the group.
Member-at-Large is a two-year term and this individual is responsible, along with the two other Members-at-Large, for representing the voice of the new practitioner members of the Ohio Pharmacists Association.
Coordinator of Launchpad, NPX's quarterly newsletter, is also a two-year commitment. Responsibilities include obtaining and coordinating article submissions, completing final edits before web publishing, and ensuring that important news is relayed to the new practitioner membership.
Chair

Dana Wilkerson, PharmD, MS
System Ambulatory Pharmacy Manager with Holzer Health System/Pharmacy Systems, Inc.

Vice Chair

Kristine Mason, PharmD, MS
Assistant Professor at The Ohio State University

Member-at-Large

Marilee Clemons, PharmD
Clinical Pharmacist at University of Toledo General Internal Medicine

Member-at-Large

Emily Eddy, PharmD
Assistant Professor of Pharmacy Practice at Ohio Northern University

Member-at-Large

Lindsay Tsai, PharmD
Assistant Pharmacy Leader with Kroger Pharmacy

Launchpad Coordinator

Lauren Castle, PharmD
Market Health and Wellness Director for Walmart
NPX Event Recap: 2020 Emerging Pharmacy Leaders Conference
This past January, OPA hosted the Emerging Pharmacy Leaders Conference. This conference is conducted every two years to identify emerging leaders, enhance leadership skills of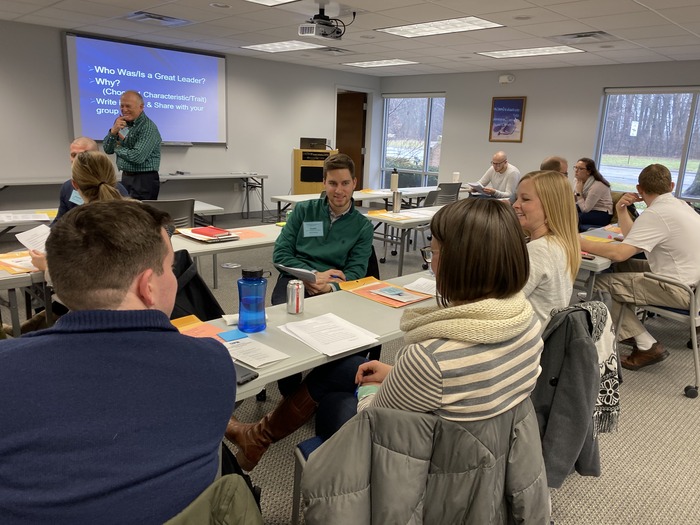 the participants, and provide motivation to seek greater awareness and involvement in issues confronting the profession and healthcare. Attendees are nominated by individuals who identified leadership qualities. Seventeen attendees were invited to participate in this year's Conference.
OPA President Brigid Groves presented Jumping into Association Leadership. Leadership Pearls: Finding Your Personal and Professional WHY was presented by OPA Treasurer Tim Ulbrich. Don Bennett, OPA past president and current member of the OPF Board of Trustees, presented Leading from Where You Are. OPA Executive Director Ernie Boyd closed the program with Leadership: How You Can Make an Impact. New Practitioner Experience (NPX) Advisory Committee Chair Dana Wilkerson spoke to the group on NPX: Home for Emerging Leaders. Throughout the day, attendees interacted with each other to complete activities and learn from one another.
Following the Conference, the pharmacists gathered at Gordon Biersch Brewery Restaurant in the downtown Arena District before a Columbus Blue Jackets Hockey game with fellow NPX members. The Columbus Blue Jackets defeated the New Jersey Devils in an exciting game.
This year's Emerging Pharmacy Leaders Conference was a success! Special thanks goes to Kroger Health for support of the Conference lunch and breaks.
2020 Emerging Leaders

Carly Adams, Family Health Services
Addie Brown, Nationwide Children's Hospital
Corey Coffey, Ohio State University

Kevin Day, Day's Miami Heights Pharmacy
Vyishali Dharbhamalla, OPA
Akesha Edwards, University of Findlay
Jason Guy, University of Findlay
Austin Hilverding, Shrivers Pharmacy
Greg Kramp, Rite Aid
Anthony Menches, Kroger
Kayla Petkus, Nationwide Children's Hospital
Brianne Porter, Ohio State University
Kelsey Schmuhl, Ohio State University
Myriam Shaw Ojeda, OPA
Alexander Swick, Nationwide Children's Hospital
Trey Tietz, Cleveland Clinic
Samantha Woods, Hopewell Health Centers
---
NPX Launchpad Newsletter
Help us write the next newsletter! Articles may be submitted for Practitioner Profile, Ohio Days or A Taste of Our Kitchen. Have an idea for another article relevant to new practitioners? You can submit that as well! Articles should be submitted in a Word document to Lauren Castle at l-anderson.1@onu.edu. Photographs for articles should be submitted separately for higher quality. Thank you!