Complete Story

January 2022 OPA Extern Profile: Megan Vince
Name: Megan Vince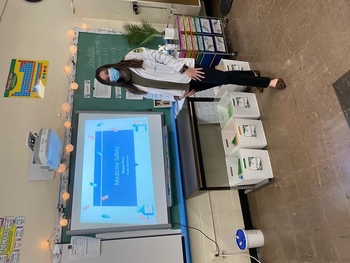 E-mail: megan.vince@rockets.utoledo.edu
Pharmacy School: University of Toledo
Undergraduate degree/institution: Bachelor of Science in Pharmaceutical Sciences- University of Toledo
Rotation Month at OPA: January 2022
How did you get interested in the profession of pharmacy?
Through personal and family health experiences, I realized the impact that medicine has on quality of life very quickly. I wanted to challenge myself to explore the science behind medications and positively impact patient care!
Why did you choose OPA as a rotation site?
I chose a rotation at OPA after serving as a Student Trustee for the University of Toledo. During that time, I realized how important it is to advocate for our profession. I once heard the quote, "If you aren't going to advocate for our profession, who will?" This made me realize the importance of OPA's work, and I wanted to learn more about what I could personally do to help with this. I was somewhat familiar with the work of OPA from my time spent as a trustee, but I wanted to get a more comprehensive experience and a better understanding of the operations.
What was the most significant or surprising experience at OPA?
During my time with OPA, I was very impressed with how so many pharmacies in the state look up to OPA for guidance and how appreciative they are of OPA's help. It was so inspiring being a part of a team that is doing groundbreaking work to help advance the profession. I was also able to meet very influential people who inspire me to continue searching for ways to improve both professionally and personally.
Why I think it's important to maintain my OPA membership after graduation.
After graduation, I want to maintain my OPA membership to continue to advocate for our profession. Utilizing pharmacists to their full potential and allowing them to practice at the top of their license will ultimately make healthcare more accessible to the public. It is also essential to pay attention to the legislation because it could impact the profession and my career, and OPA does a great job of bringing that information to light.
What other pharmacy associations/organizations do you belong to?
I belong to the pharmaceutical fraternity Alpha Zeta Omega, the American Pharmacists Association Academy of Student Pharmacists, and the honors leadership society Phi Lambda Sigma.
Hobbies:
I enjoy baking, playing volleyball, working out, trying new food, and spending time with family and friends.
---