Complete Story

November 2021 OPA Extern Profile: Addison Sember
Name: Addison Sember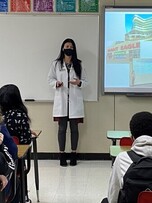 E-mail: sembera@findlay.edu
Pharmacy School: University of Findlay
Undergraduate degree/institution: University of Findlay
Rotation Month at OPA: November 2021
How did you get interested in the profession of pharmacy?
When exploring career options in high school, I was confident in two things: 1. I excelled in math and science and 2. I wanted to end up somewhere in the healthcare field. I stumbled upon pharmacy as a potential career and began to explore what paths I could take. After reading about all the different evolving areas a pharmacist can practice in, I instantly knew this would be a great route, as my career could form around the interests I had established through my college education and my job would not be limited to one role. As I have progressed through my didactic work and clinical rotations, I have never been more confident that I picked the right profession.
Why did you choose OPA as a rotation site?
I mainly learned about the OPA elective rotation through past APPE students who had completed a rotation here and heard from professors that it allowed you to build great connections with networking opportunities. I wanted to complete elective rotations in areas that aren't considered traditional to learn how pharmacists are integrated in various settings. I also wanted to improve my pharmacy policy/advocacy knowledge and skill set, and I knew OPA was the perfect place to do just that.
What was the most significant or surprising experience at OPA?
The most surprising experience I had at OPA was learning how integrated the association is with continuing education. I learned that OPA is an ACPE-accredited CE provider, which means they provide multitudes of both in-person and home study CE for pharmacists to complete as part of their licensure requirements. Part of my rotation was to assist in reviewing the home study CE articles OPA publishes in their journal every month. Proofing articles was not something I was expecting to do this month, but it was a very rewarding process and I enjoyed learning something new. I also got multiple opportunities to help staff in-person CE events such as the OPA Midyear Meeting and Pharmacist Legislative Day.
Why I think it's important to maintain my OPA membership after graduation.
The biggest takeaway from this month was learning just how vital it is that we stay in tune with our state and national associations for the profession of pharmacy. We are involved in many organizations as pharmacy students, but it becomes just as important if not more to remain a part of those while actively practicing. Pharmacy has some of the lowest numbers of membership to our professional associations, but we need membership from pharmacists out in the field every day to provide testimony and advocate to support our profession. I have seen first-hand this month that legislators are so much more receptive to change and willing to support when a pharmacist provides their personal insight and experience on major issues that require legislative changes.
What other pharmacy associations/organizations do you belong to?
Aside from Ohio Pharmacists Association, I am a member of Alpha Zeta Omega Pharmaceutical Fraternity, American Pharmacists Association, American Society of Health-System Pharmacists, American College of Clinical Pharmacy, and Rho Chi Pharmacy Honor Society.
Hobbies:
I enjoy long distance running, skiing, teaching group fitness classes, and watching football
---