Complete Story

October 2021 OPA Extern Profile: Lucy (Iva) Andrews
Name: Lucy (Iva) Andrews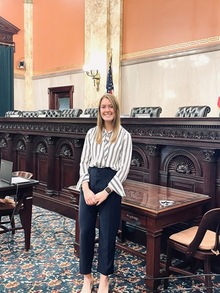 E-mail: Andrews.697@osu.edu
Pharmacy School: The Ohio State University
Undergraduate degree/institution: Randolph-Macon College
Rotation Month at OPA: October, 2021
How did you get interested in the profession of pharmacy?
My aunt is a pharmacist and worked for an independent community pharmacy in North Carolina. At holiday gatherings she would always share stories about the personal relationships she had developed with her patients and the impact she had on their health. I was especially drawn to stories where she was teaching patients about their medicines and motivating them to take personal investment in their health, as I have always enjoyed teaching and coaching. From the experiences she shared with me I knew that I wanted to follow in her footsteps. My aunt has always taken an interest in my education and pushed me to set the bar high, including convincing me to go to pharmacy school. I am very grateful to have her as a role model and mentor in my life and I will be asking her to hood me at our hooding ceremony when I graduate in May 2022.
Why did you choose OPA as a rotation site?
OPA provided a unique rotation in an area of the profession that I had no prior experiences with. Amy and Don Bennett are passionate and dedicated to the pharmacy profession, so I knew if they have been a part of this organization since before I was born, I needed to experience it for myself and learn why they keep devoting their time and efforts to this organization.
What was the most significant or surprising experience at OPA?
Going downtown to listen to testimony was extremely eye opening. I had no idea what to expect when I walked into the Statehouse, and I was quite nervous, but it was so impactful experiencing the process in-person. Even though I was more of a passive activist that day, knowing that I was doing a small part to induce change was empowering and left me hungry for more.
Why I think it's important to maintain my OPA membership after graduation.
Once you graduate, continuing your membership offers a wide range of benefits to both you, the pharmacist, and the pharmacy profession. Your membership at OPA allows the organization to have greater access to resources to represent the profession, impact legislation and to keep the profession moving forward. OPA also offers so many networking opportunities, since our members include pharmacists from a variety of pharmacy career paths. After completing this rotation, I have a better understanding how OPA can support me post-graduation as well.
What other pharmacy associations/organizations do you belong to?
APhA-ASP
Hobbies:
Riding horses, coaching lacrosse, cooking and long walks with my dog, Tobi.
---