Complete Story

September 2021 OPA Extern Profile: Matt Merical
Name: Matt Merical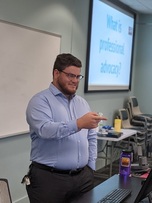 E-mail: mmerical@cedarville.edu
Pharmacy School: Cedarville University School of Pharmacy
Undergraduate degree/institution: Cedarville University; Molecular & Cellular Biology
Rotation Month at OPA: September 2021
How did you get interested in the profession of pharmacy?
I first considered pharmacy after an invitation by a faculty member I previously worked with. Despite my medical school intentions, I decided to research more about the role of the pharmacist and was surprised to find a variety of roles outside of the conventional retail setting.
As I have learned more, I have changed my focus to opportunities like pursuing a residency program or working alongside key stakeholders who are interested in enhancing the services provided by pharmacists in the community setting.
Why did you choose OPA as a rotation site?
After working alongside OPA on several projects and being interested in pharmacy advocacy, I knew I wanted to see a side of organizational leadership and applied for the rotation. There are few other opportunities that offer students such a unique experience into professional organizations, and I was certain that I wanted to get involved in the rotation.
What was the most significant or surprising experience at OPA?
I was surprised at the amount of work goes into producing each monthly Ohio Pharmacist journal. From finding article writers, to edits, to searching for different sponsors and CE topics, there are a lot of moving parts to put together each monthly journal.
Why I think it's important to maintain my OPA membership after graduation.
The Ohio Pharmacists Association advocates for me and for my profession, looking ahead to the upcoming challenges and opportunities facing pharmacy. Through support from people like myself, they are better able to keep pharmacists in the loop for all things Ohio Pharmacy, advocate for the profession, and support the continuing education of pharmacists.
What other pharmacy associations/organizations do you belong to?
APhA, ASHP, OSHP
Hobbies:
Disc golf, cycling, hiking, cooking, guitar, singing
---