Complete Story

February 2021 OPA Extern Profile: Korie Maryo
Name: Korie Maryo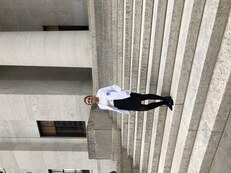 E-mail: kmaryo@neomed.edu
Pharmacy School: Northeast Ohio Medical University (NEOMED)
Undergraduate degree/institution: B.S. in Chemistry from Alderson Broaddus University
Rotation Month at OPA: February 2021
How did you get interested in the profession of pharmacy?
I always knew I wanted to pursue a career in the healthcare field. I originally wanted to be an anesthesiologist, but at the end of junior year of undergrad, I spoke with one of my teammate's fathers who was a pharmacist and after learning more about the profession, I never looked back.
Why did you choose OPA as a rotation site?
I have been heavily involved with OPA from my first year of pharmacy school, ever since attending the OPA Annual Conference. The networking, all the events offered and people I met was something I truly enjoyed and motivated me moving forward in this profession. I also was the student trustee for NEOMED during my P3 year, and I believe that being apart of our state association is extremely important, so I always knew I wanted to continue working with OPA even as an APPE experience. I specifically requested the month of February as well because I wanted to be able to plan and be apart of the annual Student Legislative Day as this event has been one I also have attended every year as a student.
What was the most significant or surprising experience at OPA?
I think one of the most surprising experiences I had this month, was attending the State of Ohio Board of Pharmacy meeting. I remember being a P1 and having someone from the board come and speak to us on how important it is to follow the rules and that the consequences can be extreme if not followed. So, being able to see the hearings first hand was eye-opening, but also a remembrance of how I hope I never am on that side of things! It was also exciting that not every day was the same with OPA. I was able to be apart of many different committee meetings and learn a lot from the different fields of the profession.
Why I think it's important to maintain my OPA membership after graduation.
I believe it is extremely important to maintain my membership after graduation because if I want to see continuing change and progression with pharmacy, then being involved with the state association is going to be way to see these changes and progression. Also, the networking and CE opportunities are always going to be beneficial. Plus, for my own personal passion and interest, I look forward to joining NPX as a new graduate, joining a committee or two and then eventually maybe having a position within OPA on a higher leadership level. I have loved being a member of OPA as a student and so it is very important to me to continue being a member as a licensed pharmacist.
What other pharmacy associations/organizations do you belong to?
American Pharmacists Association (APhA)
Phi Lambda Sigma (PLS) Student Leadership Society
American Association of Colleges of Pharmacy (AACP)
Student Society of Health System Pharmacists (SSHP)
Hobbies:
As a new homeowner and puppy mom, I have been enjoying new projects with our home and then also playing with our new puppy, Harper! I love to run and anything that has to do with the outdoors: kayaking, camping, going on hikes/walks, swimming, etc. Also, spending time with my family and anything to be able to hangout and be with them.
---