Complete Story

October 2020 OPA Extern Profile: Sheriff Benson
Name: Sheriff Benson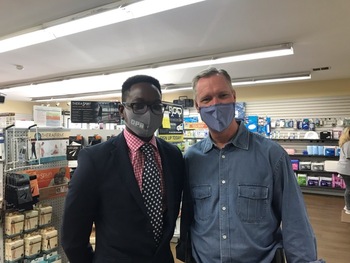 E-mail: Benson.142@osu.edu
Pharmacy School: The Ohio State University College of Pharmacy
Undergraduate degree/institution: Bachelors in Natural Sciences: Biochemistry/ Certificate: Environmental Sciences from The University of Akron
Rotation Month at OPA: October 2020
How did you get interested in the profession of pharmacy?
My mom and dad have told me I have been interested in pharmacy as long as they remember, but I think it started with aunt's diabetes. I've been enamored with medicine since the first time I ever saw her insulin vials and asked what they were, why she had to take them, and understanding that without someone to get her that medicine, she would no longer be with us. I always wanted to go into the medical field, but was sold on pharmacy during a high school career fair when a pharmacists came to speak and told us about how fulfilling the career was, and how happy she was to make her career helping people. Since she spoke to me, I have been working towards being a pharmacist and very soon I will be a licensed and practicing Doctor of Pharmacy.
Why did you choose OPA as a rotation site?
I chose OPA as a rotation site because I like to be the maker of my own destiny. I am powered by my own mantra that states, I do not want to be limited by the circumstance of my birth. I don't want to be limited by the tools and privileges or lack thereof that I began with. Being involved with OPA, and ultimately getting a rotation at OPA, will allow me to shape the profession of pharmacy which I will be practicing. I see the current practice of pharmacy failing to allow pharmacists to practice at the top of their licenses and improve patient outcomes. I also see a system which is not incentivized to improve the quality of patient care or outcomes. I want to change the system we currently have and build a better one. I think OPA is the perfect place to help me do that.
What was the most significant or surprising experience at OPA?
The most surprising experience was being included in the high level meetings that took place among the staff of OPA, Ohio Department of Health (ODH), major Managed Care Organizations (MCOs), and other large entity stakeholders. I was surprised that I was able to attend those meetings, but I was also able to contribute my unique perspective as a student. My perspective and opinions were valued. I got to be in the room where it happens!
Why I think it's important to maintain my OPA membership after graduation.
Maintaining my OPA membership after graduation will allow me to keep the network I built during pharmacy school. OPA will also help me expand that network which can help fuel my career trajectory. OPA membership provides so many more benefits, and for those reasons, I will be staying a member for my entire career.
What other pharmacy associations/organizations do you belong to?
APhA
Hobbies:
Playing soccer, tennis, volleyball.
---