Complete Story

March 2020 OPA Extern Profile: Katie Miller
Name: Katie Miller
E-mail: ktmiller@cedarville.edu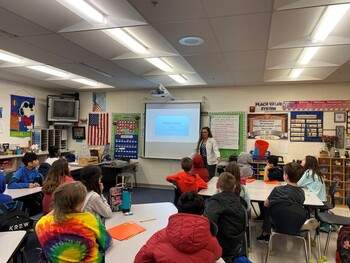 Pharmacy School: Cedarville University
Undergraduate degree/institution: Cedarville University
Rotation Month at OPA: March 2020
How did you get interested in the profession of pharmacy?
Honestly, my mother suggested it my junior year of high school. I had the grades for it, so I trusted her and committed. Since then, I learned that my grandfather and my grandmother's twin brother owned a pharmacy together in my hometown in the 1950s. Learning about their history and the history/progression of pharmacy itself has made me love the profession even more. I'm very thankful to my mother for that suggestion years ago.
Why did you choose OPA as a rotation site?
I chose OPA as a rotation site because I knew it was the best way that I could learn how to best advocate for my profession. After attending the OPA Student Legislative Day, I knew that they were an association capable of great things. Behind that, I knew that there were top-notch people working behind those scenes. I desperately want to meet and learn from all of those people. After completing the rotation, I am glad to say that my expectations were fulfilled, and everything was just as wonderful as I imagined.
What was the most significant or surprising experience at OPA?
The most surprising experience at OPA was getting the opportunity to teach fifth graders about Medicine Safety. I didn't have a lot of confidence in my ability to impress upon these 10 to 12 year-olds, but they were actually a joy to teach. The presentation went really well, and they were all very involved. I hope I inspired one of them to think about pharmacy as their career!
Why I think it's important to maintain my OPA membership after graduation.
I think it's important to maintain my OPA membership after graduation not only because it provides me a way to stay connected and involved with changes that occur to the profession, but also because I want to support the association that represents my field. As Ohio pharmacists, we are quite lucky to have such a sharp team that advocates for us. Especially after seeing all that they do behind the scenes, I would never take that for granted.
What other pharmacy associations/organizations do you belong to?
I have belonged to many in the past (APhA, SNPhA, SSHP), but I currently have a membership with SSHP.
Hobbies:
Trout fishing, Cooking, Singing, Riding horses, Dirt biking
---