Complete Story

February 2020 OPA Extern Profile: Amber Lilly
Name: Amber Lilly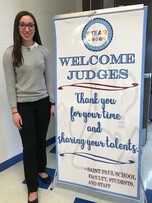 E-mail: a-lilly@onu.edu
Pharmacy School: Ohio Northern University
Rotation Month at OPA: February 2020
How did you get interested in the profession of pharmacy?
I always knew I had a strong interest in mathematics and chemistry. When contemplating career options, I knew pharmacy was a great way to be embedded on the medical team while still being a touch point for the community. I value getting to know my patients on a personal level and I'm excited to see where my career takes me!
Why did you choose OPA as a rotation site?
With the organization work I did with my student chapters on campus and with NCPA's Student Leadership Council, I knew I had a strong interest in association management. I also greatly valued my past participation in OPA's Student Legislative Day and trips to Washington DC to advocate for the profession. I knew a rotation with OPA would allow me to further explore my passion for association management and advocacy!
What was the most significant or surprising experience at OPA?
My favorite part of my rotation was assisting with OPA's Student Legislative Day. I was very fortunate to have an amazing mentor, Dee Dee Myers, instill the value of advocacy early on in my pharmacy education. Prior to this rotation, I was able to advocate at OPA's Student Legislative Day and the NCPA Congressional Pharmacy Fly-In the past two years. This time around, I was able to brief and facilitate meetings on my own with students. It was so much fun seeing them excel and love the process just as much as I did, and having an impact in creating life-long advocates of the profession!
Why I think it's important to maintain my OPA membership after graduation.
Being a member of OPA is critical to stay up-to-date on current pharmacy-related topics in Ohio, and it's highly valuable to have an organization to stand behind you when you personally may be experiencing a workplace issue. Supporting OPA is important to me as it means supporting an organization that is going to both expand and protect the profession of pharmacy.
What other pharmacy associations/organizations do you belong to?
NCPA, Kappa Psi, Rho Chi, SSHP
Hobbies:
I enjoy working out, crafting, going to Columbus Blue Jackets games, and traveling!
---