Complete Story

January 2020 OPA Extern Profile: Amy Haines
Name: Amy Haines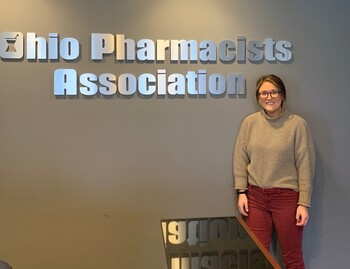 E-mail: hainesay@mail.uc.edu
Pharmacy School: University of Cincinnati
Undergraduate degree/institution: Human Nutrition/University of Kentucky
Rotation Month at OPA: January 2020
How did you get interested in the profession of pharmacy?
I have always had a passion for the medical field and being on the front lines of patient care. When tasked with choosing between pharmacy school and medical school, I found that pharmacy best fit my interests in terms of knowing the science and specifics of exactly how drugs work in the body. After shadowing at an independent pharmacy during my time as an undergrad, I learned the true impact pharmacists can have on their patients and was sold on the profession.
Why did you choose OPA as a rotation site?
I chose OPA as a rotation site because I have always had an interest in legislature and was involved in the advocacy elective at school. Through this elective, I attended multiple legislative days and found that advocacy is an important part of pushing our profession forward. My hope is that this rotation provides me networking and other experiences that will help me to stay involved in the profession of pharmacy after graduation and work alongside my peers to continue to push the profession forward in the best interest of our patients.
What was the most significant or surprising experience at OPA?
The most significant experience at OPA was meeting with my legislators to talk about pharmacy specific issues. Having a presence and getting to talk to people who pass laws is an experience that is very important and unique to this rotation.
Why I think it's important to maintain my OPA membership after graduation.
I think it will be important to stay involved in OPA after graduation to continue to be engaged in the practice of pharmacy, keep learning from my peers' practices, meeting new people, and advocating for pharmacy's future.
What other pharmacy associations/organizations do you belong to?
SSHP, OSHP Advocacy Division Member, HOPA, APhA, Tribunal
Hobbies: Running, concerts, cooking
---