Complete Story

October 2019 OPA Extern Profile: Andy Myers
Name: Andrew Myers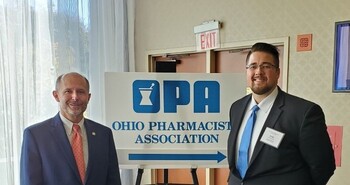 E-mail: myers.1292@osu.edu
Pharmacy School: The Ohio State University College of Pharmacy
Undergraduate degree/institution: BSPS
Rotation Month at OPA: October 2019
How did you get interested in the profession of pharmacy?
I initially came to Ohio State in 2012 with the intention of studying drug research and development. My mom was a nurse so I was always surrounded by medicine and found it fascinating that something so small could be lifesaving. When I realized how much of a people person I was, I recognized that lab life was not for me. I decided to transition to a traditional pharmacy route and loved my experience as a pharmacy technician. It was soon after that I determined that being a pharmacist was the right career path for me.
Why did you choose OPA as a rotation site?
I found my passion for advocacy at the end of my P2 year after I participated in OPA's Student Legislation Day. I loved the ability to impact my patients through this route and asked one of my professors the next day how to get more involved. She immediately plugged me in with a group of students passionate about legislative outreach and advocacy and I knew that this was what I wanted to do. OPA has helped me grow professionally and connected me with opportunities throughout my didactic coursework, so doing a rotation with them was an easy choice for me.
What was the most significant or surprising experience at OPA?
I did not expect the variety in the day-to-day or even hour-to-hour schedule. Each day is very different, and you are left to manage your time how you see fit to accomplish the projects you have been given.
Why I think it's important to maintain my OPA membership after graduation.
OPA is supporting pharmacists daily through legislative advocacy, marketing, CE, and networking. It takes an active participating from the members of our profession to make the association work and run. The dedication they show to pharmacists across the state, and in some cases across the country with legislative focus, is only possible when we have an active workforce of pharmacists buying in and supporting the association.
What other pharmacy associations/organizations do you belong to?
American Pharmacists Association, Phi Lambda Sigma
Hobbies:
I am a huge tennis and football fan. I also love history, specifically pertaining to the American Revolution, politics and music. I enjoy going on hikes, working out at the gym, and playing games, both board and video.
---