Complete Story

New Practitioner Experience News Summer 2019



OPA New Practitioner Experience (NPX) Launchpad

Summer 2019
Welcome to the NPX Launchpad
Welcome to the NPX Launchpad, the quarterly newsletter intended to help you, new practitioners, excel personally and professionally.
Check out our featured articles:
Practitioner Profile featuring Marilee Clemons

Professional Pearls

by Emlah Tubuo
Rx Impact by Lauren Castle
Money Matters by Renee Bonsell
A Taste o

f Our Kitchen

by Marilee Clemons
Ohio Days: "Dublin Days" by Emily Eddy
Committee Liaison Reports: updates to keep you in tune with the Association
We hope you enjoy the NPX Launchpad and we invite each of you to take the next step in your professional growth by getting involved with NPX today!
Sincerely, your NPX Advisory Committee,
Chair: Dana Wilkerson, PharmD, MS
Vice-Chair: Kristine Mason, PharmD, MS
Member-at-Large: Emily Eddy, PharmD
Member-at-Large: Lindsay Tsai, PharmD
Member-at-Large: Marilee Clemons, PharmD
Launchpad Coordinator: Lauren Castle, PharmD
---
Practitioner Profile
Marilee Clemons, R.Ph., PharmD

What's your current position?
I am a Clinical Pharmacist at University of Toledo General Internal Medicine.
Describe your career path.
I received my BS in Biology and BS in Chemistry in 2012 and PharmD in 2016 from Shenandoah University in Winchester, Virginia. I worked in community pharmacy starting in high school, throughout undergrad and pharmacy school. I completed a PGY1 in Community Care at Charitable Pharmacy of Central Ohio in Columbus in 2017 which exposed me to advanced patient care initiatives and piqued my interest in working as part of an interdisciplinary care team. I completed my PGY2 in Ambulatory Care at OSU General Internal Medicine in 2018 which prepared me for my current role developing pharmacy services within a GIM clinic in Toledo.
What excites you the most about being a pharmacist/new practitioner?
---
Professional Pearls
The Pharmacist's Self-Esteem
By Emlah Tubuo, R.Ph., PharmD

The Cambridge Advanced Learner's dictionary defines superiority complex as a belief that you are better, cleverer, or more important than other people. As Pharmacists, we have probably encountered a colleague who has this belief and portrays delusions of grandeur. On the other hand, some pharmacists portray an over modest self-regard and delusions of insignificance which we could refer to as an inferiority complex. Over the course of my career, I have observed displays of both complexes during interprofessional interactions. Neither stimulates our professional or personal growth in the right direction. A healthy dose of self-esteem is required for both professional and personal advancement.
We all have mentors whom we admire and emulate. A few years ago, one of my mentors asked if I would be willing to serve as a residency preceptor. This was a great learning opportunity for me and an excellent chance to share my knowledge and experience with the residents. As you can imagine my initial thought was "I didn't complete a residency, how on earth will I be able to do this?"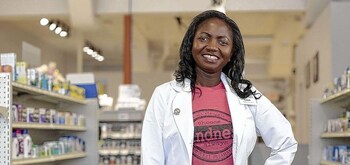 ---
Rx Impact
By Lauren Castle, PharmD, MS

How often do you see patients who come to your practice, with a whole host of complaints, and yet their labs seem fine and they are using all the recommended pharmaceutical products to manage their symptoms… and yet they still just don't feel well? I knew someone like that; he had chronic sinus infections, insomnia, anxiety, irritable bowel, and couldn't lose weight despite eating well and exercising regularly. No treatments seemed to truly cure any of his ills, until one day he found a new doctor who practiced functional medicine. Within 12 weeks, these issues that had been going on for years had all been completely eliminated, he lost 20 pounds, and felt like he had his life back. But how?
---
Money Matters
By Renee Bonsell
Founder and CEO of Pharmacist Wealth
A common question I'm asked as a pharmacist-turned-financial-planner is, "What should I do first, pay off my student loans or save for retirement?" Today it's common for newly-licensed pharmacists to owe well over $100,000 in student loan debt when they graduate, and in fact some of my clients owe in excess of $300,000. Unfortunately, given the escalating costs of tuition and the length of time that it takes to earn a pharmacy degree, this is the new reality. If you were like most college students, you didn't hesitate to apply for student loans because you were convinced that your starting salary would be more than enough to meet your living expenses, save for a rainy day, and quickly pay off your loans. But reality isn't always so kind. Now you realize that between taxes and inflation, there's not as much money to go around as you thought, and you're faced with the inevitable decision of whether to pay off your students loans or start saving for retirement.
Although limited exceptions apply, you essentially have three options:
Pay off your student loans now and save for retirement later.
Save for retirement now and pay off your student loans later. That is, make only the minimum student loan payment required.
3. Use a combination of paying off your student loans and saving for retirement at the same time.
---
A Taste of Our Kitchen
Tarragon Chicken with Sour Cream
From the Kitchen of Marilee Clemons, R.Ph., PharmD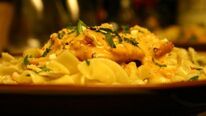 Prep time: About one hour
Ingredients:
1 frying chicken (2 to 3 pounds), cut into serving pieces
3 tbsp butter
¼ cup chopped onion
1 clove garlic, finely chopped
2 tbsp all-purpose flour
2 tbsp tomato paste
1 ½ cups chicken stock
1 tsp salt
½ tsp black pepper
1 tbsp fresh tarragon or 1½ tsp dried tarragon
¾ cup sour cream
2 tbsp grated parmesan cheese
Instructions:
Brown the chicken pieces in the butter in a large heavy skillet, turning to brown on all sides. Remove the chicken and keep warm.
Add the onion and garlic to the pan and cook until tender, stirring occasionally. Stir in the flour and the tomato paste and then add the stock slowly. Bring to a boil, stirring until the mixture thickens. Return the chicken to the pan.
Add the salt, pepper and tarragon; cover and simmer gently for about 45 minutes or until the chicken is tender.
Remove the chicken to a warm platter. Gradually stir the sour cream into the sauce and heat, stirring, but do not boil. Pour over chicken and sprinkle with Parmesan cheese.
---
Ohio Days
A Day in Dublin
By Emily Eddy, R.Ph., PharmD
Dublin, Ohio a northwest suburb of Columbus that has a lot to offer outside of all that Columbus has to offer. Dublin has a variety of places to visit and enjoy as well as several world class festival and events that are worth taking the time to visit. Historic Dublin and the Bridge park area are the two most vibrant areas of Dublin and are worth enjoying. The historic downtown has many unique restaurants, ice cream shops and shopping options. Downtown Dublin even has a brand new branch of the Columbus Metropolitan LIbrary that is worth visiting. In the winter the downtown shops participate in the 12 Elves of Dublin. Businesses will hide little elves in their shops offering visitors prizes for walking around and finding the elves. This has been a wonderful tradition for my family and me to explore downtown and get little treats. We have even come across Santa while walking around.
The newer Bridge Park area across the river is a modern juxtaposition of the historic Dublin area and will soon be connected via a pedestrian bridge.
---
News & Upcoming Events
---
Committee Liaison Reports
Practice Advancement and Innovation Committee - June 20
Liaisons: Brooke Taylor, R.Ph., PharmD and Kelsey Schmuhl, R.Ph., PharmD
The Practice Advancement and Innovation Committee meeting on June 20 began with Kristine Schumacher from The Ohio State University (OSU) Medication Management Program (MMP) and Nick Saltsman from Equitas Health Pharmacy presenting on their practice sites. OSU MMP provides medication therapy management services to patients across Ohio and the United States telephonically. Equitas Health Pharmacy is an FQHC look-alike and Ryan White clinic that services the HIV/AIDS and LGBQT community. As a company, their goal is to be a home for all patients and allow patients with HIV/AIDS to live a normal life through disease management.
The committee also discussed that the Senate Finance Committee announced that this year in budget they added 3 million dollars for pharmacy to help displace the low dispensing fees from PBMs. While pharmacy is providing more clinical services, we need to still ensure that we are receiving adequate pay for dispensing. The budget is being sent to the House of Representation to vote for approval. Please reach out to your House Representative to show support of the budget. Lastly, Antonio Ciaccia would like to create a database of research studies showing pharmacists' clinical and financial impact on the community through clinical services. If you have written or know of any articles, please submit to Antonio Ciaccia at aciaccia@ohiopharmacists.org.
Member Services & Development Committee - July 16
Liaison: Christine Prusa, R.Ph., PharmD
Membership was increased from folks joining to attend the annual meeting, fall call campaign, and student members from the meeting. Award season is coming up so please nominate those outstanding RPhs you know here.
Our next membership campaign will have a focus of "Service" recruitment to have OPA be a central communication point for all the service that is happening in our profession to attract/support those doing service. "Leadership is Service and there is power in that giving: to help people, to inspire and motivate them to reach their fullest potential."
Here is a message that you can use as an NPX to share with others to identify the 31 folks we want to highlight and to attract new members by speaking to their passion for service matching with OPA:
As a part of our Membership Campaign this year, the Member Services & Development Committee would like to highlight the spirit of service that is the very core of what we as pharmacists do - we serve our patients, we serve our communities, we serve our profession through our membership in OPA. In connection with American Pharmacists Month, we are looking for 31 acts of service to spotlight during October to kick off this campaign of service. This can be service in free clinics, service on committees in the community, service through involvement in community activities (think large Relay for Life, Pelotonia etc. or smaller local Kiwanis, churches, festivals etc.). What we are hoping to emphasize is that regardless of practice or location, pharmacists have a common love and desire to serve. Involvement in OPA is a way to serve the profession they love - much as they serve their communities.
If you have a name you would like to submit please email Aimee O'Reilly, Vice-Chair of Membership at oreilly.aimeej@gmail.com. Ultimately, we will collect the following from each submission: 1. Name 2. Act of Service 3. Contact info to get others involved in the service opportunity 4. Picture 5. Why they serve as a member of OPA.
All meetings are held at the OPA office, 2674 Federated Blvd, Columbus 43235 at 10:00 am unless otherwise noted. Please visit the OPA committee webpage for more information.
---
Get Involved with the Launchpad Newsletter
Help us write the next newsletter! Articles may be submitted for Practitioner Profile, Professional Pearls, Rx Impact, Ohio Days, or A Taste of Our Kitchen. Have an idea for another article relevant to new practitioners? You can submit that as well!
Sign up for upcoming articles at our Google Doc Here.
Articles should be submitted in a Word document to Lauren Castle. Photographs for articles should be submitted separately for higher quality images. Thank you!