Complete Story

March 2019 OPA Extern Profile: Heather Fogarty
Heather Fogarty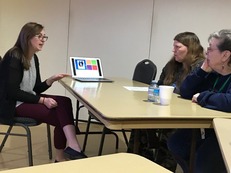 E-mail: hsfogarty1@gmail.com
Pharmacy School: Ohio Northern University
Undergraduate degree/institution: Doctor of Pharmacy
Rotation Month at OPA: March 2019
How did you get interested in the profession of pharmacy?
My uncle was born with liver disease and required a liver transplant. His post-operative course was complicated by seizures, which were caused by a medication interaction with his new regimen. This interaction was identified by one of my family members who brought his finding to the attention of my uncle's medical team. From this point on, I was committed to ensuring that other families would not have to go through a similar experience with one of their loved ones.
Why did you choose OPA as a rotation site?
I chose OPA as a rotation site because I wanted to see what occurs behind the scenes with our state pharmacy association. I had also heard great remarks about the rotation from previous students, and from professors at Ohio Northern University. In addition, I am passionate about advocating for the profession of pharmacy, and looked forward to additional opportunities to engage in legislative advocacy with the association.
What was the most significant or surprising experience at OPA?
My favorite experience was returning to the Hilliard City School District to discuss medicine safety with the fifth grade students at Beacon Elementary. Given the devastating opioid epidemic in our country, it is important to have these conversations with the youth early on and often.
Why I think it's important to maintain my OPA membership after graduation.
The Ohio Pharmacists Association offers many benefits to its members, including: continuing education, legislative advocacy to expand the scope of pharmacist practice in Ohio, training seminars, and networking opportunities!
What other pharmacy associations/organizations do you belong to?
American Society of Health-System Pharmacists (ASHP)
Pediatric Pharmacy Advocacy Group (PPAG)
Hobbies:
Exploring new restaurants and hiking
---