Complete Story

February 2019 OPA Extern Profile: Vyishali Dharbhamalla
Vyishali Dharbhamalla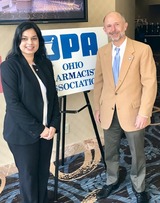 E-mail: Dharbhamalla.2@osu.edu
Pharmacy School: The Ohio State University College of Pharmacy
Undergraduate degree/institution: Bachelor of Arts in Women's, Gender and Sexuality Studies and Bachelor of Science in Pharmaceutical Sciences at The Ohio State University
Rotation Month at OPA: February 2019
How did you get interested in the profession of pharmacy?
I became interested in the profession of pharmacy due to my interest in healthcare and my sister. Since I was a child, I knew I wanted to be involved in the healthcare industry, but I never knew how. I shadowed different healthcare professionals, but when I was a junior in high school my sister started pharmacy school. After hearing her speak about her passion for pharmacy, I began to research more into the profession, and I began to see why she was in school for pharmacy causing me to pursue a career in pharmacy.
Why did you choose OPA as a rotation site?
I chose OPA as a rotation site because of my interest in health policy and association management. During my time as a pharmacy student, the most rewarding experiences have been through my involvement in student organizations. As an APPE student, I wanted to see the work that is done at the state association to have a greater understanding of associations and the work that they do to help progress the profession of pharmacy.
What was the most significant or surprising experience at OPA?
Each day at OPA was unique and I have learned so much from my experience at OPA. It is very hard for me to choose only one experience at OPA that has stood out, but something that surprised me is the variety of services that OPA offers from CE to the members lobbying on behalf of pharmacists. OPA, as an organization, is able to offer many services to members and having the opportunity to witness how these services come about has been a good experience.
Why I think it's important to maintain my OPA membership after graduation.
I think that it is very important to maintain OPA membership because OPA is a voice for pharmacists. In the ever-changing healthcare environment, the role of a pharmacist is changing, and I see OPA as a representative for all pharmacists. OPA is providing pharmacists the support structure they need to practice and OPA is the voice who will keep fighting for expanding the scope of practice of pharmacists every day. For these reasons, I believe it is important to maintain my OPA membership after graduation to ensure that we, as pharmacists, can continue to provide expectational patient care to those in need.
What other pharmacy associations/organizations do you belong to?
I am a student member of:
American Pharmacists Association-Academy of Student Pharmacists (APhA-ASP)
Academy of Manage Care Pharmacists (AMCP)
American Society of Health-System Pharmacists (ASHP)
National Community Pharmacists Association (NCPA)
Ohio Society of Health-System Pharmacists (OSHP)
Phi Lambda Sigma Leadership Society (PLS.)
Student Society of Health-System Pharmacy (SSHP)
Hobbies:
In my free time, I like to read books, watch movies, and TV shows with friends and family. I love to explore and travel to new places.
---