Complete Story

January 2019 OPA Extern Profile: R. Jed Swackhammer
R. Jed Swackhammer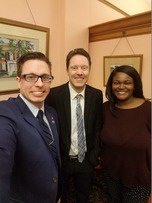 E-mail: Swackhammer.5@osu.edu
Pharmacy School: The Ohio State University
Undergraduate degree/institution: Bachelors of Science in Pharmaceutical Sciences/ The Ohio State University
Rotation Month at OPA: January 2019
How did you get interested in the profession of pharmacy?
My grandfather who was a pharmacy 1960 graduate of The Ohio State University. I always loved hearing his stories after a long day at work. In addition, I loved running errands with him. There always seemed to be someone he knew or knew him.
I knew that I wanted to connect with people on that scale and make an impact in their lives.
Why did you choose OPA as a rotation site?
I chose OPA because I wanted to learn more ways that I could impact the profession of pharmacy. In addition to, increasing student communication and advocacy efforts. Most of all, I wanted to give back to an organization that has achieved so much for the profession.
What was the most significant or surprising experience at OPA?
I'd have to say the most significant experience has been the NBC 4 interview regarding 27 deaths from fentanyl.
Why I think it's important to maintain my OPA membership after graduation.
It is important to maintain my OPA membership because I must continue to support an organization that has done so much for my future. Furthermore, continue my involvement with the profession. I believe that OPA is one of the best organizations that provides great membership opportunities at a low price.
What other pharmacy associations/organizations do you belong to?
APhA-ASP
ASHP
Phi Lambda Sigma – Alpha Sigma
Student Pharmacists Association for Diversity and Equity (SPADE)
American Geriatrics Society
Hobbies:
Anything hands on – I like to fix things or work on house projects
OSU Football Fan
---