Complete Story

April 2018 OPA Extern Profile: Mackenzie Harrell
Mackenzie Harrell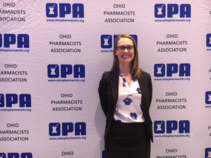 E-mail: harrell.89@osu.edu
Pharmacy School: The Ohio State University College of Pharmacy
Undergraduate degree/institution: The Ohio State University College of Pharmacy
Rotation Month at OPA: April 2018
How did you get interested in the profession of pharmacy?
Like many other pharmacists, I have trouble dealing with blood and guts. As I entered Ohio State as an undergrad, I kept my mind open to many career opportunities. I knew the profession was right for me when I had my first pharmacy job as a Kroger pharmacy technician. I loved the fast-paced environment and the opportunity to help solve problems for patients. As I continued throughout undergrad and into pharmacy school, I continued to develop passion for the profession through student organizations, the continued fast pace and the opportunity to learn under many inspiring mentors. I love that the profession is continually evolving, and I am excited to be a part of it.
Why did you choose OPA as a rotation site?
I have been very fortunate throughout my career to have worked with and met many pharmacists and mentors who have been highly involved with OPA. Through each and every one of them, I have seen the many benefits of the organization and the importance of being involved. OPA has also provided me with many opportunities to learn about and to advocate for my profession. I had a desire to become more intensely involved in an organization that is so important to many of my close mentors and has already given so much to me.
What was the most significant or surprising experience at OPA?
With April being the month of the annual conference, there were many surprising experiences. It was a perfect month for me as I was always busy with the routine tasks of the OPA student as well as preparing for the conference. It was important for me to become more involved with directly advocating for the profession in the height of the PBM problems. I was able to gather what I was learning on rotation and with Antonio to educate other students and pharmacists. It was amazing to see the business of his schedule and the work he puts in to assuring that pharmacists have the laws in place to practice at the top of their license. I also learned so many things about the annual conference that were surprising. The staff at OPA is extremely organized, so it seemed somewhat simple to me. The time they dedicate to making sure that everything is ready before, during and after the conference is inspirational. I loved being on the other side of the conference and knowing everything that was happening at the conference. It is an amazing experience to see so many inspiring pharmacists and pharmacy students gathered for one weekend with a passion and dedication to the profession.
Why I think it's important to maintain my OPA membership after graduation.
As I mentioned before, OPA has given me so much education so far in my career. I know that I will continue to utilize the education through the Newsline and the award-winning journal. I have seen first hand the importance of advocating directly for my profession as reimbursements for pharmacists decrease and scope of practice increases. I also intend to stay connected with my many amazing mentors who are involved with OPA. Additionally, I want to continue to meet pharmacists who are making an impact on the profession throughout my career through being involved with committees and groups within the organization. I know that OPA does so much, but it couldn't do it without members. I want to support the organization that supports my profession.
What other pharmacy associations/organizations do you belong to?
American Pharmacists Association (APhA), National Community Pharmacists Association (NCPA), Phi Lambda Sigma Pharmacy Leadership Society (PLS)
Hobbies:
Traveling to visit friends
Hot yoga
Baking and eating cookies
Trying new restaurants
---