Complete Story

OPA's Ciaccia named to national pharmacy policy council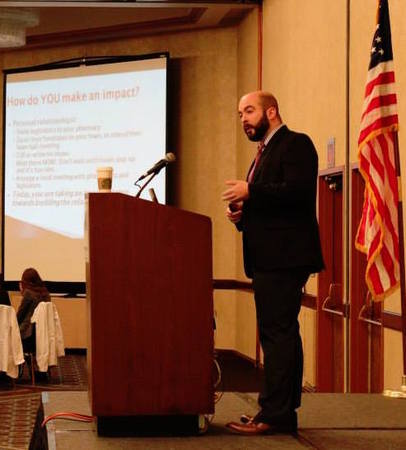 Ohio Pharmacists Association (OPA) Director of Government & Public Affairs Antonio Ciaccia has been appointed to the National Community Pharmacists Association's (NCPA) Steering Committee on State Legislation & Regulation. The Steering Committee specifically is charged with reviewing and shaping legislation that could impact community pharmacists across the country. Ciaccia is among 100 pharmacy leaders in the United States who have been selected to work with NCPA to develop new initiatives that support community pharmacies and the patients they serve in the coming year. He is one of a dozen individuals in the country that will serve on the State Legislation & Regulation Committee.
In March, Ciaccia participated in NCPA's annual Steering Committee Forum in Alexandra, Virginia, which is dedicated to wide-ranging, in-depth discussions of the role of community pharmacists in health care and how to best position them for the future. Each year, the President of NCPA selects a group of members like Ciaccia to serve on committees that work closely with NCPA's CEO, staff and Board of Directors on initiatives designed to better independent community pharmacy and NCPA.
"OPA and NCPA have developed a fruitful partnership that has resulted in successful enactment of community pharmacy priority laws, and Antonio Ciaccia has played a key part.," said Matthew DiLoreto, NCPA's Senior Director of State Government Affairs. "Ohio is on the front lines of PBM reform efforts, so Antonio brings a valuable perspective to the NCPA State Legislative Committee and we greatly appreciate his service. In addition, we know that OPA and therefore Ohio community pharmacy as a whole benefit from Antonio's experience and his participation on the State Legislative Committee trading best practices with colleagues from across the country."
In communities across the nation, independent community pharmacies are a vital resource for patients. The evolving pharmacy marketplace, characterized by more and more Americans seeking prescription drug services; the government's growing role as both a regulator and major purchaser of health care services; competition from mail-order pharmacies; and technological advances all ensure that the future viability of independent community pharmacies is predicated on their ability to adapt.
There are seven NCPA steering committees dedicated to addressing specific aspects of the challenges community pharmacists face on a daily basis, and how those issues impact the patients they serve. The committees include focuses on technology; compounding; long-term care; management; emerging models; state legislation and regulatory affairs; and national legislation and government affairs.
On March 17-18, each committee met and presented the results of a recently completed NCPA Member Priority Survey. Then the committees identified areas where they would work with staff over the coming year and created a timeline of goals and expectations based on the committee of interest. Ciaccia will continue to work throughout the year with NCPA officials to develop and refine model legislation for states across the country to utilize.
"It's an honor to participate in NCPA's State Legislation and Regulatory Affairs Steering Committee," said Ciaccia. "They are a vital to the future of community pharmacists, and they are the driving force for positive change within the pharmacy profession. I am fortunate to be a small part of supporting NCPA's big responsibilities."
###
The National Community Pharmacists Association (NCPA) represents the interests of America's community pharmacists, including the owners of more than 22,000 independent community pharmacies. Together, they represent an $81.4 billion health care marketplace and employ more than 314,000 individuals on a full-time or part-time basis. To learn more, go to www.ncpanet.org.
The Ohio Pharmacists Association (OPA), established in 1879, represents more than 4,000 pharmacists, pharmacy educators, and pharmacy students throughout the state. It is OPA's mission to unite the profession of pharmacy and encourage interprofessional relations, while promoting public health through education, discussion, and legislation. To learn more, go to www.ohiopharmacists.org.
---