Complete Story

March 2015 OPA Extern Profile: (Victoria) Shea Pennington
(Victoria) Shea Pennington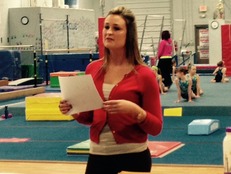 E-mail: v-pennington@onu.edu
Pharmacy School: Ohio Northern University Raabe College of Pharmacy
Undergraduate degree/institution: N/A
Rotation Month at OPA: March 2015
How did you get interested in the profession of pharmacy?
Growing up with an older cousin who was a pharmacist, I was always interested in what this successful, smart, beautiful girl did for a living- she was my role model! I liked the idea of pharmacy as I learned how she could build relationships with patients as she helped to manage their medications. In high school, however- since my strongest subject was English and I loved reading and writing- I was leaning towards a career in communications or public relations. When my grandmother's health pivoted downwards drastically during the summer leading into my senior year, all I wanted to do was help her sort through and understand the 20-some medications she was taking. Even as a high school student, it seemed clear to me that some of my grandma's health problems were due to the compilation of multiple medications and their side effects. This experience is what turned my attention back to pharmacy. I grasped onto the vision that I could incorporate my interest in communications into a profession in which patient relationships are of the utmost importance in providing them with quality care.
Why did you choose OPA as a rotation site?
Involvement with OPA throughout my college experience has meant so much to me. From serving as student trustee on the 2011-2012 Board of Trustees, to learning about effective leadership at the Young Pharmacists Leadership Conference, to being an advocate for important heath care issues at the Statehouse, the opportunities I was granted helped mold my professional goals and personal expectations. Because of this impact, I was thrilled to have the chance at landing an experiential rotation with the Association. I desired to gain a thorough understanding of the inner workings of the organization, both on a daily staffing level and on a grander, long-range scale. The meticulous, detailed efforts required of the OPA team in organizing events, editing publications, and coordinating pharmacist and student services is truly commendable. Additionally, being able to work as an OPA extern was extremely appealing due to students' unique exposure to the legislative process and time spent at the Statehouse. The mix of communications and legislative work offered through the OPA rotation was absolutely ideal for my interests!
What was the most significant or surprising experience at OPA?
I could list numerous things that fit under this description- the exceptional quality of work production by the OPA staff, in what was often a condensed time period, constantly amazed me! Pinpointing one particular experience, however, I must make mention of a day spent with OPA's Director of Government Affairs and my fellow extern downtown at the Statehouse. On Wednesday, March 25th, we had the opportunity to sit in on the Ohio House of Representatives Session and witness the introduction, and subsequent passage, of House Bill 69: Fetal Heartbeat Protection Act. The ensuing debate between legislators was captivating to me, as both perspectives on the issue were shared with fervor. This was the first debate of such magnitude that I had witnessed in a Session and observing the emotional stories, and even tears, from various representatives came as a surprise to me. Even on such a sensitive topic, however, the vast majority of the deliberation was carried out with respect of the other party.
What other pharmacy associations/organizations do you belong to?
American Pharmacists Association- Academy of Student Pharmacists (APhA-ASP), Kappa Epsilon Professional Fraternity, National Community Pharmacists Association (NCPA), Phi Lambda Sigma Leadership Honorary, Rho Chi Academic Honorary.
Hobbies:
Traveling with friends and family, reading novels, enjoying Ohio's sunshine, attempting to finally finish Breaking Bad (and other Netflix series)
---