Complete Story

EduCon 2021 Exhibitor Registration is Open! February 4 & 5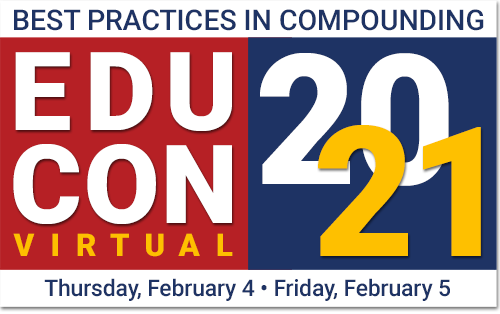 Support compounding pharmacies
and their patients by sponsoring
APC's EduCon Virtual 2021:
Best Practices in Compounding
You can't afford to miss this opportunity to connect with dozens of compounding pharmacists and technicians via the EduCon virtual platform and the event's mobile app.
Co-hosted with the Ohio Pharmacists Association, the virtual event's nine CPE hours and timely topics will attract compounding pharmacists and technicians from around the country — the kind of dedicated compounders focused on high competence, safety, and integrity.
It's coming fast: February 4–5, 2021.
Get the details, then register today as a sponsor, and get access to the best compounders in the country at EduConVirtual 2021.
Base exhibitor rates:
APC Corporate Patron and OPA Member: $1,200
All others: $1,500
And plenty of other opportunities are available, from push notifications to session sponsorships!


Got questions? Visit A4PC.org/educonsponsor for details, or contact Janice Johnson at (614) 389-3236 or jjohnson@ohiopharmacists.org to discuss the limited sponsor opportunities for this event.
---