Complete Story

March 2018 OPA Extern Profile: Emily Carlson
Emily Carlson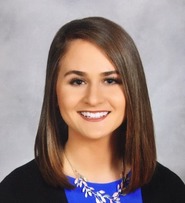 E-mail: e-carlson@onu.edu
Pharmacy School: Ohio Northern University
Undergraduate degree/institution: N/A
Rotation Month at OPA: March 2018
How did you get interested in the profession of pharmacy?
I'm convinced that the interest and draw towards the pharmacy profession runs in my genes. My great-great Uncle Ray graduated from ONU pharmacy school in 1942. Including my uncle, I have had seven family members graduate from ONU pharmacy school and I will be the eighth when I graduate this upcoming May. In addition, my father has always been a mentor to me and it is appealing to see how much satisfaction pharmacy has brought him over the years. I believe it is a well-rounded profession that uses a little bit of everything (chemistry, anatomy, physiology, law, financing, etc.). So I decided to join the family bandwagon and follow in my dad's footsteps!
Why did you choose OPA as a rotation site?
I chose OPA as a rotation site because I wanted to see what occurred behind the scenes with our state association. I also heard great remarks about the rotation from previous rotating students and from current professors at my university. In addition, I knew it would be a memorable and eye opening experience, especially with all of the exciting pharmacy legislation currently taking place!
What was the most significant or surprising experience at OPA?
The most significant experience at OPA was teaching grade school students about medicine safety! I enjoyed every minute of it and I cannot wait to provide that type of community service in my hometown.
Why I think it's important to maintain my OPA membership after graduation.
Out of all the numerous pharmacy organizations out there, it is especially vital to be an OPA member throughout the years as a pharmacist. We must stick together as a state in this large pharmacy world. OPA represents us, as Ohio pharmacists, and they advocate for our profession on a personal level.
What other pharmacy associations/organizations do you belong to?
I was very active in NCPA (National Community Pharmacists Association) throughout college. I have a passion for independent pharmacy, which is why I became so involved in this organization. I also was a member of ASCP (American Society of Consultant Pharmacists) for a couple years.
Hobbies:
I like to run, go on walks, and hike. I also love exploring new places, travelling, and visiting national parks. During my downtime, I enjoy playing the piano and reading new books. But overall, my happiness comes from my big Italian family and we enjoy playing bocce, eating wedding soup, and tasting homemade wine!
---