Complete Story

Ohio lawmakers call on Auditor to review PBM practices in Medicaid program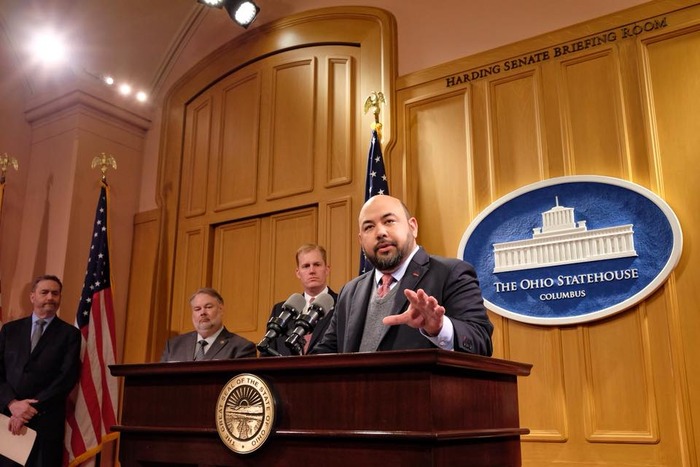 After two years of working with lawmakers and the Ohio Department of Medicaid, we are pleased to report a major breakthrough in our quest to expose and reform the practices of pharmacy benefit managers (PBMs).
In the face of declining pharmacy reimbursements, yet huge increases in drug spending in the Medicaid program, today, Ohio Speaker of the House Cliff Rosenberger led a special press conference with members of the Ohio House of Representatives, where they called on Ohio Auditor Dave Yost to pull back the curtain on how PBMs are operating in Ohio Medicaid.
Speaker Rosenberger was joined by Representatives Scott Lipps, Ryan Smith, Mark Romanchuk, Scott Ryan, and Steve Huffman to discuss their concerns over reported cuts in pharmacy reimbursements that have not manifested themselves into savings for the state. Auditor Yost expressed similar concerns and vowed to do what was in his power to examine what's going on in the program.
To view the press conference in its entirety, CLICK HERE.
"I am excited to have the support of Speaker Rosenberger and Auditor Yost as I work for transparency in the Medicaid pharmacy space and to protect taxpayer dollars," said Rep. Scott Lipps.
OPA applauds the work of the Columbus Dispatch for breaking this story open, and have already run several installments covering the ongoing developments in this fight. To read up on the Dispatch's stories click below:
Editorial: Medicaid drug prices shouldn't be secret - 3/16/18
State lawmaker on prescription drug middlemen: 'We're getting hosed' - 3/15/18
Auditor Yost, & Ohio lawmakers demand transparency - 3/14/18
Ohio legislature will look into PBM billing practices - 3/13/18
PBMs accused of using Medicaid rolls in Ohio to push out competition - 3/12/18
On March 15 at 9:00am in the North Hearing Room of the Ohio Senate, the Joint Medicaid Oversight Committee will dig deeper into this issue, and discuss the pharmacy and prescription drug pricing issues that are impacting the Medicaid program.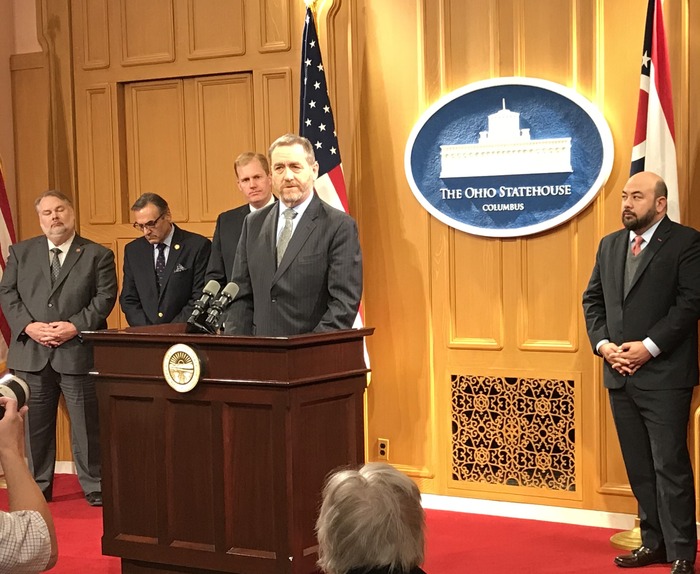 "We commend Speaker Rosenberger and Representative Ryan Smith for their long-standing support for PBM reform, and we thank Representative Lipps for his leadership role – as a freshman legislator – in tackling these complicated prescription drug pricing issues," said OPA Executive Director Ernie Boyd.
"With any purchase government makes, it is incumbent upon lawmakers to ask the question, 'what are we buying?'" said OPA government affairs director Antonio Ciaccia. "In the last two years, the state of Ohio bought 160 less pharmacies than we had before, decreased access to medications, shredded pharmacy staffing levels, and apparently paid millions of dollars more in order to obtain all of it. How do we know if we're getting value if we don't even know what we're buying?"
OPA will continue to push this issue, and if resolution is not found outside of legislation, we will aggressively push for passage of Rep. Lipps & Rep. Kyle Koehler's HB 465 to carve out pharmacy benefits away from Medicaid managed care.
We thank the Department of Medicaid for their ongoing dialogue as we work towards a solution.
If you are a pharmacist that has been impacted by what's happening in the Medicaid managed care program, the time to speak up is now.
---