Details

November 18, 2022
11:30AM - 12:30PM
Ohio Pharmacy Innovation Series: Session 5
Zoom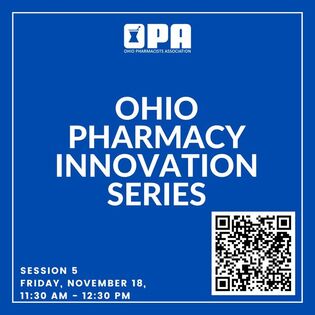 The pharmacy profession faces several opportunities for reimbursable patient care, including provider status and COVID-19-related services. Join us for our next Ohio Pharmacy Innovation Series webinar on Friday, November 18, from 11:30 am - 12:30 pm. At this session, we will have an updates on pharmacy association executive leadership transitions, rollout of Ohio Medicaid's single pharmacy benefit manager (SPBM), and legislative/advocacy efforts for the end of this General Assembly.
All pharmacists and student pharmacists are invited. If you are a student pharmacist and want to get involved more with the future
of your profession, this is a great opportunity to learn more.
Add to Calendar
aCLuDhaqizCaPxAftmqF167204
11/18/2022 11:30 AM
11/18/2022 12:30 PM
false
America/New York
Ohio Pharmacy Innovation Series: Session 5
The pharmacy profession faces several opportunities for reimbursable patient care, including provider status and COVID-19-related services. Join us for our next Ohio Pharmacy Innovation Series webinar on Friday, November 18, from 11:30 am - 12:30 pm. At this session, we will have an updates on pharmacy association executive leadership transitions, rollout of Ohio Medicaid's single pharmacy benefit manager (SPBM), and legislative/advocacy efforts for the end of this General Assembly. All pharmacists and student pharmacists are invited. If you are a student pharmacist and want to get involved more with the future of your profession, this is a great opportunity to learn more. Click HERE to Register
Zoom
---